there's a reason i said that for Dayton, playing at George Washington is like walking into a house of horrors. the Flyers haven't won there since 2009. and sure enough, coming off of a very emotional win over VCU, Dayton was incredibly flat to start the game last night. i believe at one point, GW had made 9 or 10 shots in a row to start the game and Dayton had only 1 field goal. i think the lead got up to 19 a few times. as usual, Dayton fought back, but anyone who has watched Dayton play over the last 20 years knew what was going to happen. sometimes they just dig too big of a fucking hole to climb out of. last night was one of those nights. Dayton lost 87-81. they are still the #1 seed in the A10 tournament, so hopefully they can take care of business in that. they will play the winner of La Salle vs. Davidson on March 10th for their first game in the tournament.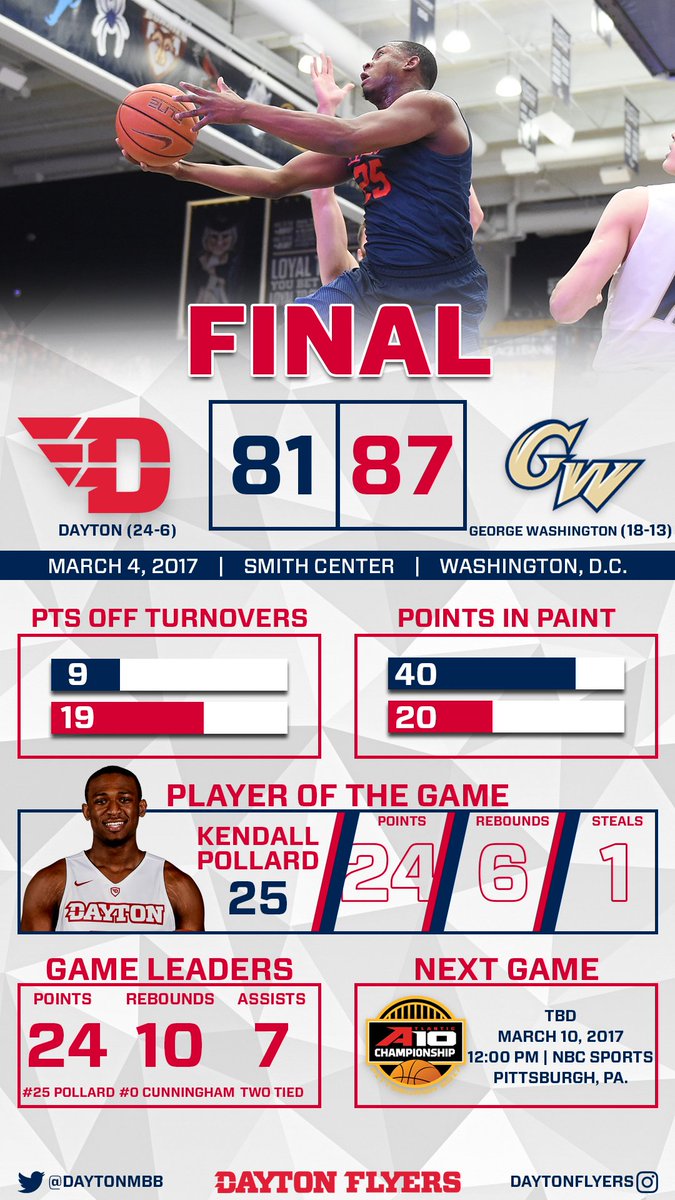 the Dayton women's team won the A10 tournament earlier today by beating Duquesne 70-56. the women won the regular season and the conference tournament. hopefully the men can do the same.
the New York Rangers had their asses handed to them last night by Montreal. the Rangers didn't come close to answering the physical nature that Montreal played with. and that's an easy way to piss me the fuck off. it was embarrassing to watch at times. the Rangers lost 4-1. they play tomorrow night in Tampa Bay, the start of a road trip. thank god they play better on the road.
Saturday Night Live was pretty fucking funny last night. that's the good thing when you have a dumb fuck as president, the comedy writes itself.
ROH was excellent last night.
enjoy some music:
and now some of this and that:
on the DVR tonight will be Big Little Lies, Girls, Crashing, Last Week Tonight, Homeland, Billions and Feud: Bette & Joan.
i will be watching WWE Fastlane for most of the evening on WWE Network.
the weather was actually nice enough today that i went out and filled all the bird feeders. i figure i better do it now as it's supposed to rain the next 2 days.
if anyone might be interested in some tickets to the First Four this year, shoot me an email. we have some extra tickets that we're looking to sell. if you need more information on the First Four, go here:
http://daytonflyers.com/custompages/firstfour/index.html
i got some great FREE music this morning on NoiseTrade. i'll post the link below in the music section.
i heard back from Live Nude Poems on my recent poetry submission. they decided to pass on what i sent. i figure if i get these rejected poems published elsewhere, i'll officially have no clue what they are actually looking for.
i hope everyone had a great Saturday. hopefully your Sunday will be even better.
be well. be creative. be cool. be quick to send me CASH, panties, hate mail, love letters, broken promises and dirty pennies from heaven.
peace and chicken grease...
music:
New West Records -
Live From Austin, TX Rock & Blues Mixtape
"I don't think I'm made of the right stuff to be a politician. I think I'm made to be a loose cannon." - Penn Jillette
and your whatever the fuck i wanted you to see video of the day: