the propane tank is full. the ice has been cleared off the sidewalks. the cats and birds have been fed and forgotten about. i'm effectively blocking the pain in my arm and back with adrenaline and hope. tonight's the night. i know there are only so many times in my life i get to watch the team i have rooted for since my birth to have the chance to go win a championship. to have it be the first one decided in a playoff, which makes it a "true" championship... priceless. there's also the little vow of mine if one of my teams wins a championship, this goatee i've been growing since the last championship will come off. the caveat of course is i will NEVER shave again. so, tonight has many, many consequences. here's the hype video Ohio State put out for the game. needless to say, i'm ready to run through a fucking wall:
hopefully tonight goes much better than yesterday did. Manchester United controlled just about all 90 minutes. they forgot to just keep it simple stupid and score. so, of course, they lost to a team they shouldn't have. they are still in the top 4, barely. i was beyond pissed for most of the rest of the day.
i did get to watch the episode of ROH i slept through. a great episode to start off 2015.
the NFL playoff games were good. i split on picking the games. i'm now 6-2 in the playoffs.
i watched a little bit of The Golden Globes. i did laugh at some of it. i did love Jeremy Renner's line about J-Lo.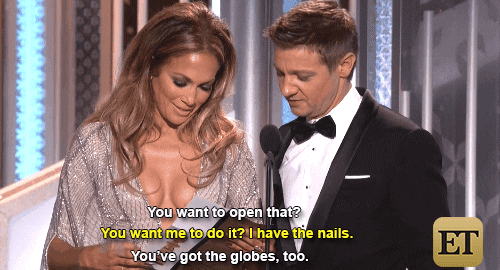 the Sunday night shows were pretty good. Girls had a great ass eating scene and not much else. Togetherness i really liked. i think that show will be really good. Shameless was great, as usual. loved the nudity and flirting. House of Lies was good if you remembered last season. Episodes was pretty good. Total Divas was more mindless shit, though i wouldn't mind seeing the uncensored version of it.
other than the game tonight, i might check out Monday Night Raw and the Men in Blazers if the game is going bad for Ohio State. i know "Macho Man" Randy Savage is supposed to be announced for the WWE Hall of Fame tonight. hopefully they do that before the game starts. he's one of my favorites of all-time.
i had a horrible time falling asleep last night. between my bad back and this shitty weather, i might have got 3 hours at best. if Ohio State wins tonight, i doubt i will get that much.
i have no clue when i will be on here tomorrow. it will be sometime before the New York Rangers game, i do know that.
i hope everyone had a great weekend. thanks again for allowing me to waste a few minutes of your precious time.
be well. be creative. be cool. be quick to send me CASH, panties, hate mail, love letters, broken promises and dirty pennies from heaven.
peace and chicken grease...
music:
Barbarian Overlords - The Harvester
Volbeat - A Warrior's Call
Powerman 5000 - Bombshell
Kiss - War Machine
Saliva - Ladies and Gentlemen
"Your anger is a gift." - Zack de la Rocha