the ceremony last night that the Dayton Flyers had for Big Steve was really good. they presented his mother with his championship ring from winning the A10 last season. when she started to cry it took everything i had from not weeping. the whole team then gathered around Big Steve's family and hugged each other. Big Steve will always be missed and he will always be a Flyer.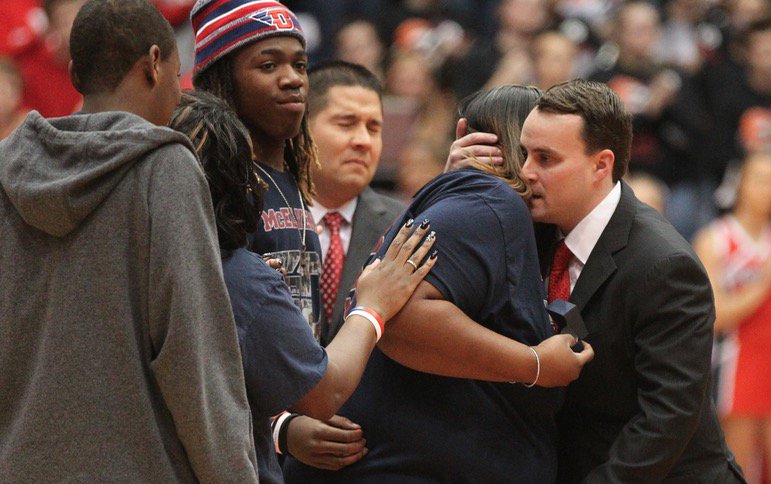 Dayton came out and absolutely dominated Austin Peay from start to finish last night. Charles Cooke scored 31 points, 24 of those came in the first half. you know it's always a successful first game of the season when the walk-ons are playing at the end. Dayton won 96-68. they next play at Alabama on Tuesday.
i got home just in time to turn on the Mexico vs. USA World Cup qualifying game. sure enough, 30 seconds after i turned it on, Mexico scored to take a 2-1 lead. fuck me runnin'. i didn't feel like watching any highlights or figuring out why the USA lost the game. it was their first home qualifying loss in 15 years. i did read about shit this morning though. as usual, the coach out thought himself once again and fucked things up. now, the game in Costa Rica is a MUST for the team. they will be fucked if they don't get a result in the game.
the 2 shows on DirecTV about Butch Walker last night were really good. if you haven't heard of Butch Walker, i highly suggest you seek his music out.
the 2 episodes of NJPW were excellent last night.
Vice News Tonight had another excellent week of reporting.
the season finale of Real Time with Bill Maher was excellent last night. i think he had some excellent points that Democrats truly need to fucking learn if they want to start winning elections again.
i also watched Bert Kreischer's special on Showtime, The Machine. i was laughing my ass off at 4 in the morning. too fucking funny. i highly recommend it.
enjoy some music:
and now some of this and that:
on the DVR tonight will be Saturday Night Live, ROH and Austin City Limits.
i had to take a piss sample to the doctor's office this morning and pick up my mother's long term disability paperwork. i'm interested to see what comes back in the piss after a night of drinking.
Ohio State plays at Maryland later this afternoon. hopefully they come back with a victory.
the New York Rangers play tonight out in Calgary. hopefully they can get back on a winning streak.
i will probably be on here in the morning tomorrow before the New Orleans Saints play a huge game at home against Denver.
i hope everyone has a great Saturday. call if you need bail money.
be well. be creative. be cool. be quick to send me CASH, panties, hate mail, love letters, broken promises and dirty pennies from heaven.
peace and chicken grease...
music:
Bullet for My Valentine - Don't Need You
The Crystal Method w/Meiko - Falling Hard
Disclosure w/Lorde - Magnets
Dawg Yawp - East Virginia Blues
"I'm not into organized religion. I'm into believing in a higher source of creation, realizing we're all just part of nature." - Neil Young
and your whatever the fuck i wanted you to see video of the day: