to say i was deeply disappointed after watching the New York Rangers lose last night would be an understatement. everything was set up for them to make a run this season. and once again, shitty coaching does them in. i only want the team to do 3 things... 1) a new coach 2) find centers that can win faceoffs 3) realize there are no more years of The King's career to piss away. and if the Rangers are going to get a new coach, i suggest they move quickly and do it before the draft or the same shit will happen again next season.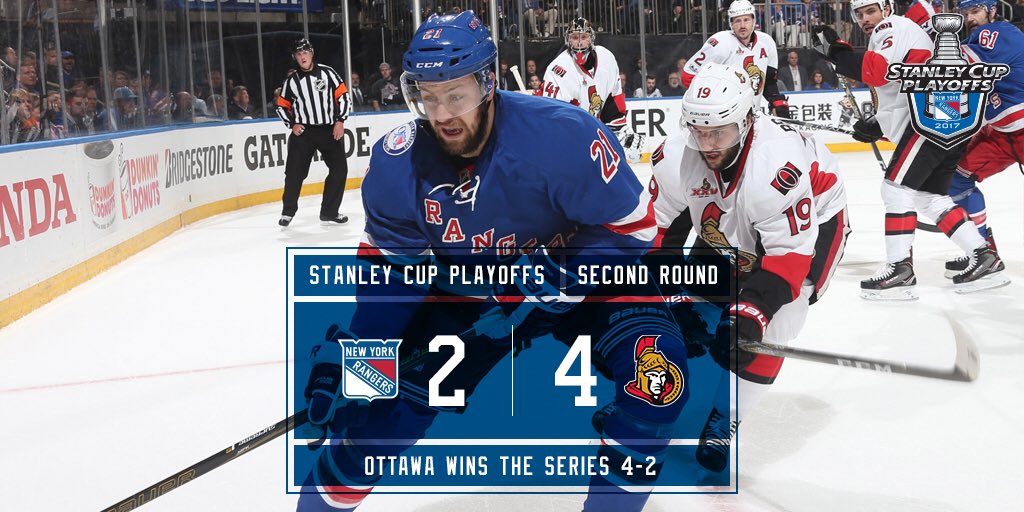 the New York Yankees got an early lead yesterday and then CC puked all over himself in the second inning, giving up 5 runs and that was pretty much the end to the winning streak. the Yankees lost 5-3. they are off tonight and start a 4 game series at home against Houston tomorrow.
The Voice pretty much went as i hoped last night. the two people that left were the two that i liked the least on the show. that is usually what happens with team Adam it seems. the semifinals next week should be amazing.
Deadliest Catch was pretty good last night. it's obvious that sobriety and Captain Keith don't get along just yet.
Smackdown was good last night, even though it could have been better.
205 Live was really good last night.
my good friend John Sweet posted a photo this morning with the caption You Will Live to See Democracy Die... after what Trump did last night, i imagine so.
be sure to check out John's amazing blog:
the bleeding horse, avenged
enjoy some music:
and now some of this and that:
on the DVR tonight will be Vice News Tonight and the season finale of Total Divas. i'll watch NXT this evening on WWE Network.
i might watch the two Game 7's tonight in the NHL playoffs. or i might not.
i did shave and get a haircut today. i got lucky on the haircut. they were having a sale and i got the cute one i like at the place i go to to cut it. she got a very nice tip, just not the tip i would like to give to her. i don't think her husband would approve.
i also took mom to the drugstore today. that might be one of the last times she goes somewhere other than a doctor's office before she has her hip replaced.
all the music today is FREE music i got on NoiseTrade. i'll post the links below in the music section.
Trump firing the FBI director did not surprise me. he's only acting like most billionaires do. the only purpose of having fuck you money is to do whatever the fuck you want whenever you want to. now, sure Comey was probably getting closer to proving the link between the Russians and Trump, but you surely wouldn't think it's a cover up. that is until the meeting today with the Russians (that the American media was not allowed to see but the Russian media was) and then a nice photo op with Henry Kissinger. nothing screams fuck you than right after being compared to Nixon you show up with his right hand man. coup completed. i hope all you dumb fucks that voted for this enjoy it.
i believe it's going to rain soon. that's what my bones are telling me.
i'll be on here tomorrow probably after i send out some poems and most likely after Manchester United plays their most important game of the season.
be well. be creative. be cool. be quick to send me CASH, panties, hate mail, love letters, broken promises and dirty pennies from heaven.
peace and chicken grease...
music:
The Social Animals -
An Introduction to The Social Animals
Joshua Radin & Rachael Yamagata -
The Coffee House Tour EP
Ozomatli -
Live at the Belly Up 2017
BJ Barham -
Rockingham
"The hardest job kids face today is learning good manners without seeing any." - Fred Astaire
and your whatever the fuck i wanted you to see video of the day: